Writing
Do you have some ideas for a book, but you do not have the time or the expert writing skills to actually write a book? To a T can ghostwrite your book. Provide us with notes and/or an outline of your book idea, and we will be happy to write your manuscript, seeking your guidance throughout the process.

Also, we offer a premium gift service: Provide us with detailed biographical information about the person you are giving a gift to, and we will write a book about them, consulting with you as to what type of book you want, be it a novel, a collection of poems, or something else.
Publishing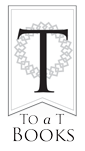 To a T Editorial Group also offers small-press publishing services through our imprint, To a T Books. To a T Books recently published its first title in 2016. To purchase our first title directly from the printer, click here.

If you are interested in publishing your book with To a T Books or if you would like to learn more about us, contact ToaTBooks@tteditorialgroup.com.